Porto Novi
WELCOME TO THE MONTENEGRO RIVIERA, CELEBRATING THE WARMTH AND BEAUTY OF MONTENEGRO
Portonovi harbors 275 luxurious homes commanding an excellent position between mountain and sea, ranging from luxurious, spacious town houses set in the heart of its Mediterranean-style village, stylish villas in its landscaped gardens, to sleek penthouse apartments overlooking Portonovi Marina.
Each property imparts its own distinctive sense of place with life and energy. Unique spa and dining, with innovative and tailored experiences for adults and families with children await. Portonovi's beaches, unique in Boka Bay, will be a sought-after destination for relaxation, waterfront dining and luxury living.
THE ADRIATIC'S MOST SOPHISTICATED MIXED-USE RESORT DESTINATION
With an ambience of relaxed, yet spirited elegance, Portonovi will redefine standards within Montenegro and across the entire Mediterranean region.
Designed as an elegant Montenegrin village, the resort will have the character, charm and ambience of a long-established settlement. Its graceful pedestrian environment will reflect the surrounding architecture of the Adriatic coast, while echoing the style of vernacular towns such as Herceg Novi, Kotor, Perast and Dubrovnik.
Portonovi takes full advantage of its beautiful setting in an area where mountainous terrain drops steeply to the water's edge. Built predominantly on land reclaimed from the sea by the Montenegrin Navy one hundred years ago, the development makes the most of this space between mountain and sea.
Portonovi is build in several types of villages
LOWER VILLAGE
Lower Village represents the heart and Adriatic soul of Portonovi. Its design combines elements of the Montenegrin vernacular and venetian styling with complementary Mediterranean features.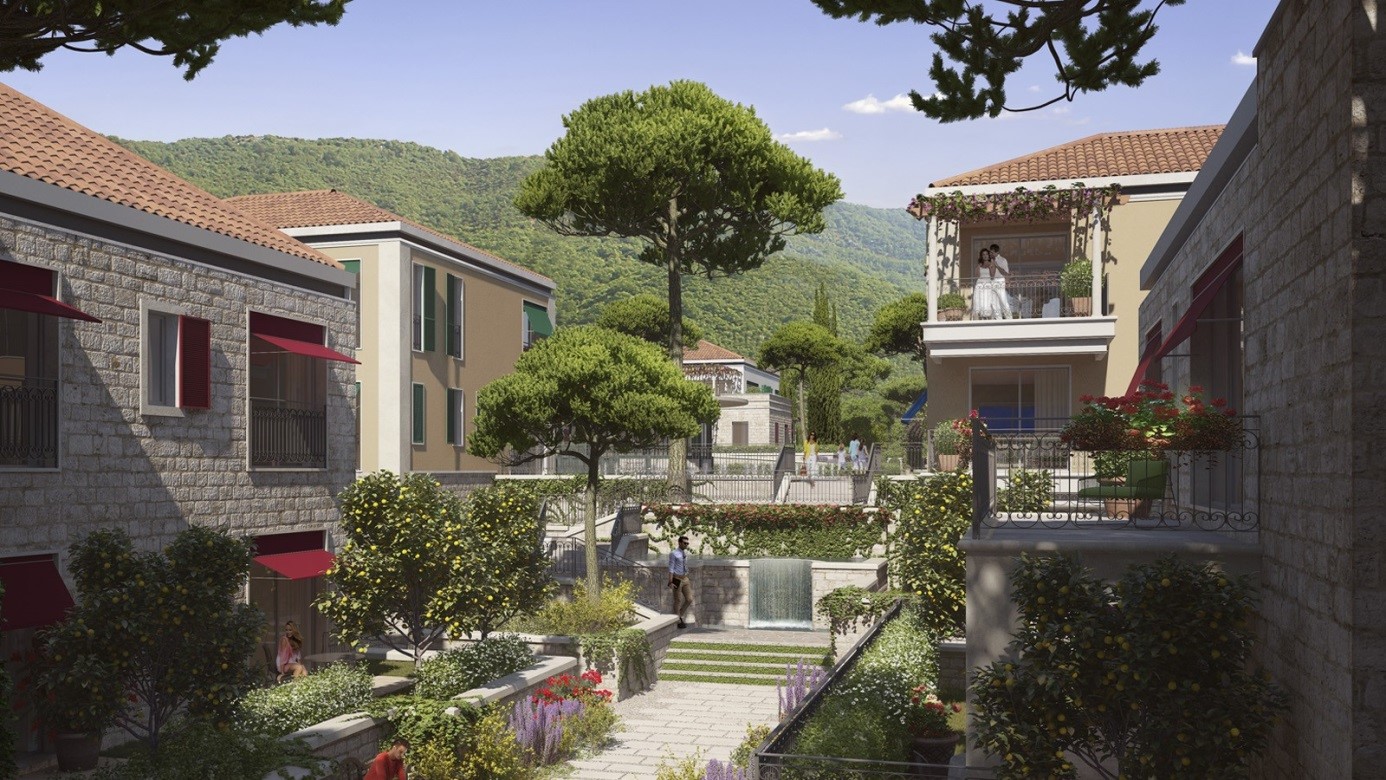 Lower Village replicates the style and allure of a low-rise Mediterranean village community. Characterized by a textured, vernacular architecture and connected to the local landscape, it includes a selection of elegant pop-up stores, terraces and kiosks
Middle Village
Middle Village wonderfully captures the spirit of Boka Bay, offering myriad secret nooks, walking paths and peaceful reflection gardens. The landscaping approach combines Mediterranean essences, water, mountains and unhindered views of the great outdoors: the quintessential elements that embody the Montenegro lifestyle. Views have been extremely carefully thought out and residents will feel surrounded by nature, as indoor and outdoor spaces are always connected.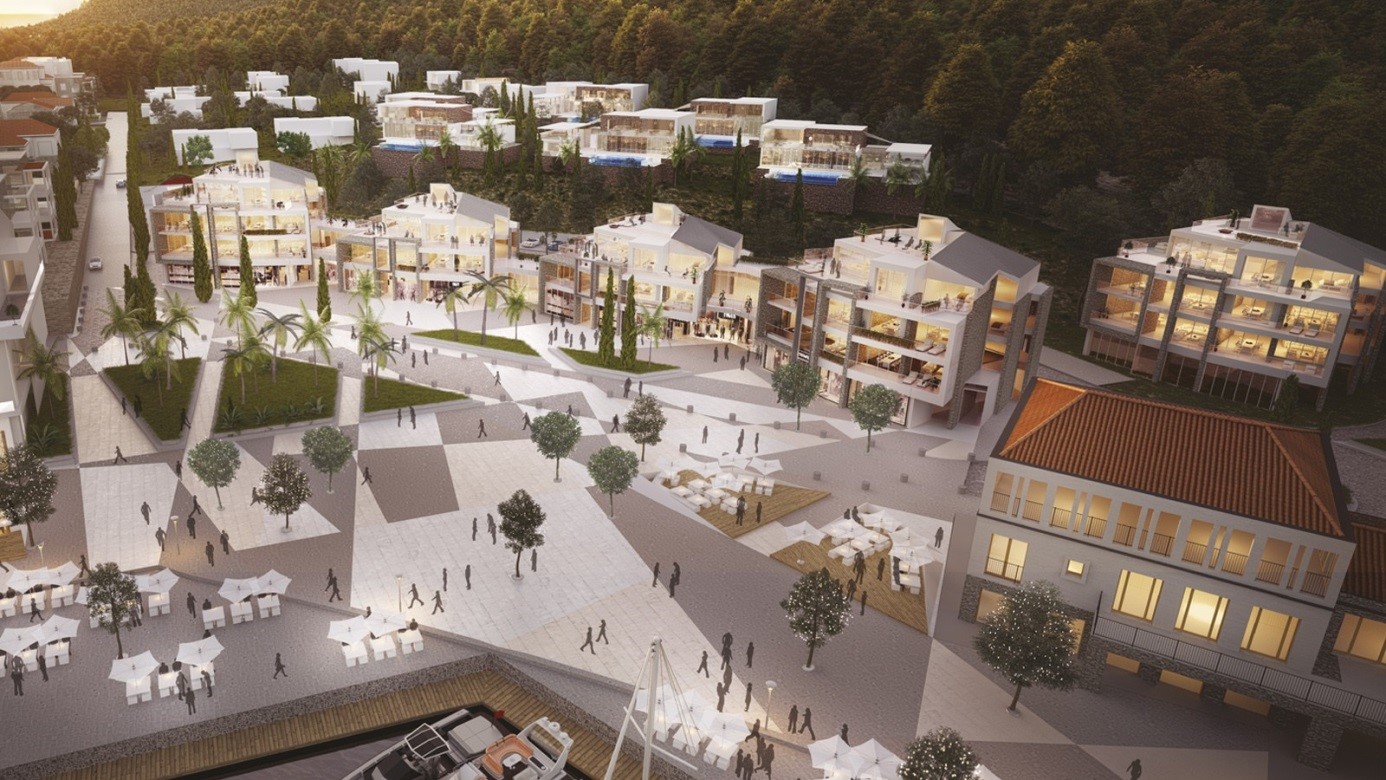 Marina apartments
Both East and West facing, each Marina Apartment building will have a highly sophisticated modern look, featuring a mix of natural and high-tech materials such as wood and glass.
Marina Apartments include retail elements on the ground level. The range of designer boutiques present there will include a range of premium international luxury fashion brands.
Higher up, are a limited number of super penthouses with private lifts, infinity pools and commanding views of Boka Bay, Mount Lovćen and Portonovi Marina and the super yachts berthed there.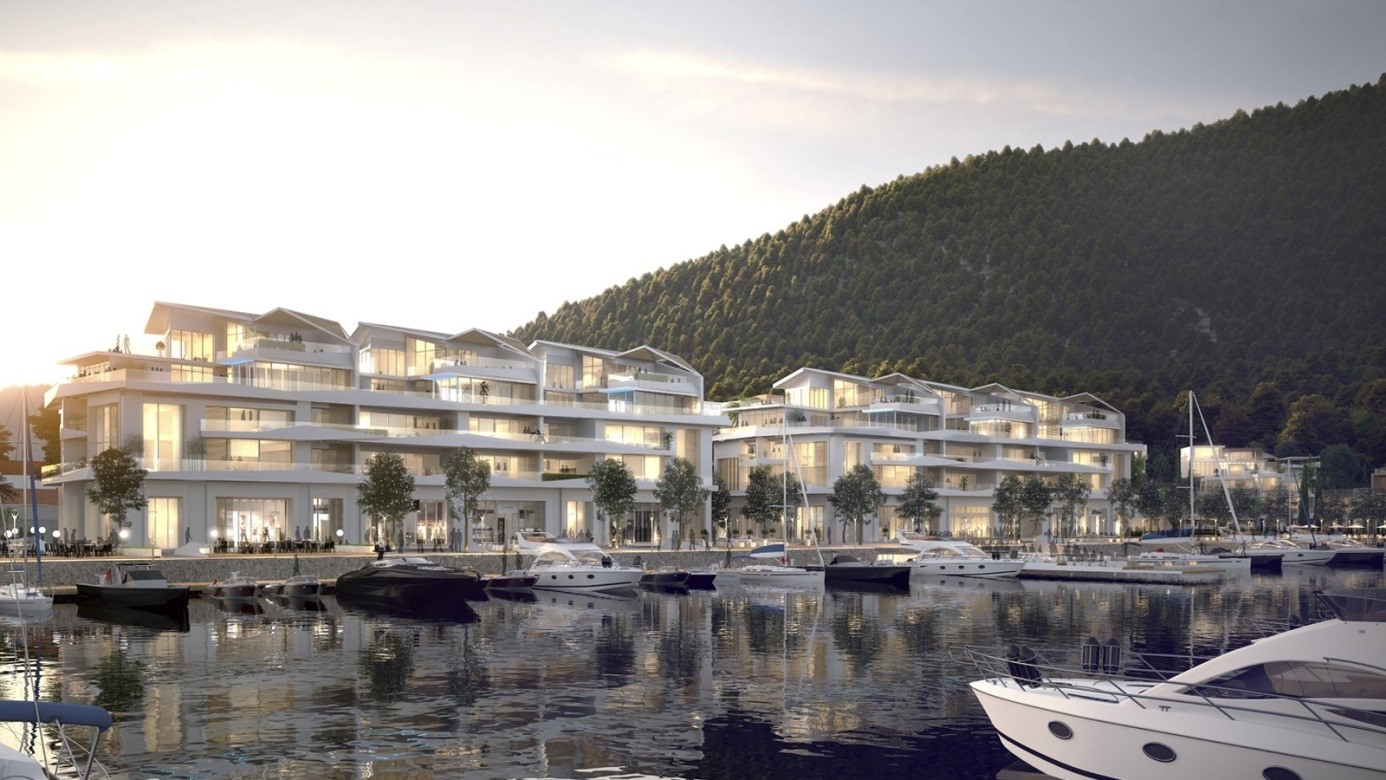 Fisherman's Wharf
At Fisherman's Wharf, indulge in a prime retail and restaurant offer. Most dining and entertainment venues are located here, right along the Marina.
The area includes Montenegrin, Italian, Asian and international food signature restaurants. Each restaurant has its own character and appearance, while the combination of all restaurants perfectly expresses Fisherman's Wharf highly recognizable overall design.
The restaurant offer is complemented with food and beverage venues and entertainment concepts, such as Fashion Cafés, Cocktail Bars, Lounges, Bars, Kiosks as well as a number of bijou shops.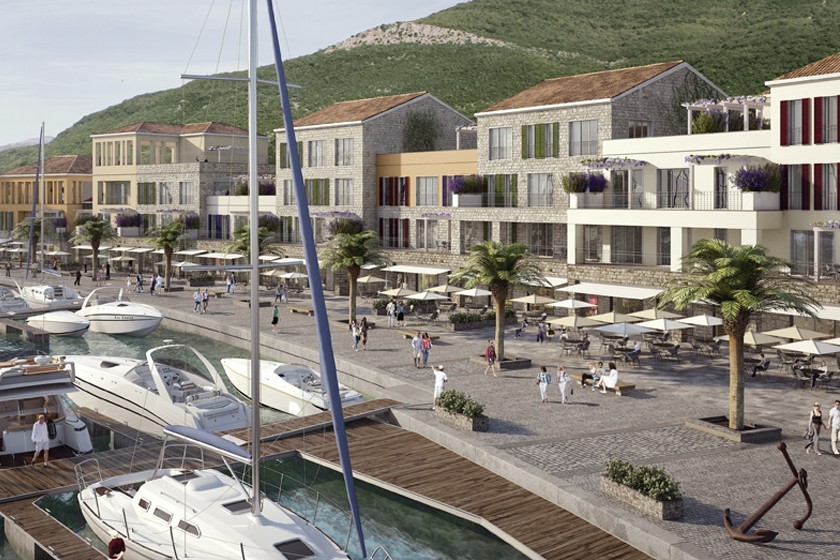 Upper Village
The design of Upper Village will include more contemporary elements and will make use of the prominent position within the resort to highlight a limited number of unique villas and apartments.