Your exclusive holiday home
At the Lustica Bay, Montenegro
Imagine a holiday home designed with sophistication; luxuriously crafted and equipped to deliver the legendary Chedi experience. A limited collection of exclusive residences are now available at The Chedi Luštica Bay. Combining incomparable elegance and refinement with contemporary luxury, privacy, exceptional facilities and amenities and meticulous service, guests will feel indulged in a refined, yet relaxed ambiance, that evokes traditional, coastal life. As part of The Chedi Luštica Bay hotel complex, the Chedi Residences are an astute choice, combining both holiday home and investment opportunity.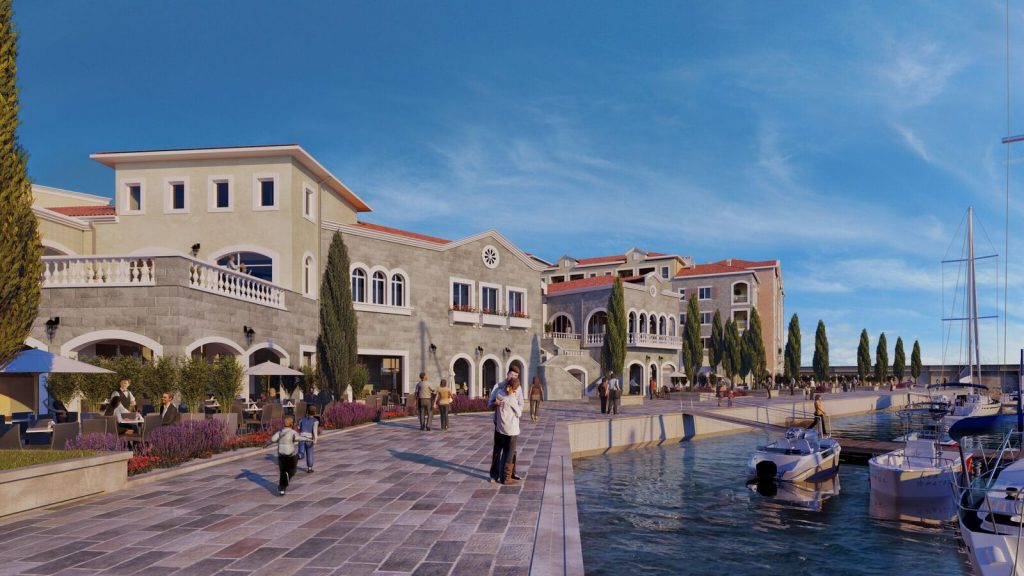 The Chedi brand
by GHM
Established in 1992, GHM (General Hotel Management Ltd.) is known for conceptualising, developing and operating an exclusive group of hotels and resorts. With an expansive portfolio and signature hotels such as The Chedi Andermatt in Switzerland and The Chedi Muscat in Oman, GHM prides itself in providing guests with a distinctive lifestyle experience that is unrivalled. Each GHM property is an original, with its own, unique character. Owned by GHM, The Chedi brand, which established its name in Asia and the Far East, continues its expansion into Europe with the Luštica Bay project by opening its second European hotel and bringing a world class experience to the Montenegrin coast. The word 'Chedi' typically refers to a place of meditation and is associated with settings where one can find peace. Embodying this definition, Chedi hotels are tranquil environments where travelers may rediscover the joys of stillness and be soothed by the calmness in a backdrop of beauty and comfort. The special relationship between the land and the local culture amongst which each resides enables GHM to provide guests with genuine, intimate experience of the destination. The Chedi Luštica Bay is no exception, opening the door to the best of Montenegro's extraordinary culture.
The Chedi Luštica Bay, Montenegro
The Chedi Luštica Bay is set to become the hottest new attraction in Montenegro – welcoming its first guests in July 2018. Comprising 111 rooms, including 60 condominium studios, The Chedi Luštica Bay will be one of the largest 5 star hotels in the Boka Bay area. Featuring two restaurants, a bar, ballroom, conference and business facilities, an outdoor heated pool, spa and fitness centre featuring an indoor heated pool, gymnasium and exclusive retail offerings, The Chedi Luštica Bay offers contemporary, world class facilities and amenities. Set in a prime waterfront location within the Luštica Bay Marina and with direct access to an adjacent sandy beach, guests can unwind in complete tranquillity over spectacular Adriatic sea views.
Venacular Architechture
Contemporary coastal interiors
Conceptualised by TVS Design studio from Atlanta (USA) the hotel design represents a modern interpretation of the vernacular architecture, grounded in a strong sense of identity and place. Interiors by the acclaimed GG & Grace fuse contemporary coastal ambiance with natural accents. Marble, glass, timber and ceramic in a neutral colour palette invite the outdoors in and create spaces that are light, open and make the most of surrounding views. High quality furnishings and fixtures elevate spaces; a selection of modern furnishings in bold accent colours draws the eye and provides a signature feature across the public and private spaces within the hotel.
Make the Chedi Residence
Your holiday home investment
A limited selection of Chedi Residences are now available for purchase including studio units, exclusive one and two bedroom suites and an outstanding top floor corner Penthouse suite. All residences are fully furnished and equipped to the highest standards.
By becoming an owner in the Chedi Residences, you will benefit from:
Freehold ownership and guaranteed fixed term rental leaseback;
Income potential through rental pool programme operated by the hotel;
Optional guaranteed fixed term rental return or revenue share models;
Personal use during pre-defined periods;
Discounted tariffs during personal use restricted period;
Saving on various costs associated with regular real estate products.
Want to know more about this beautiful project? Contact us by sending an email to contact@excellencexperts.nl.